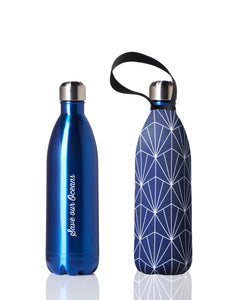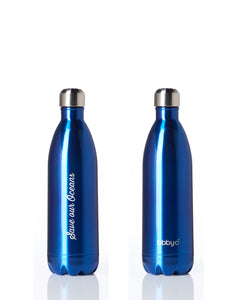 Future Bottle + carry cover - stainless steel insulated bottle - 1000 ml - Beam print
BeautifulBeaches BYO - FUTURE BOTTLE (Premium insulated stainless steel 1000 ml drink bottle.)
The ultimate stainless steel drink bottle. This bottle has no equal when it comes to performance, and pure, streamlined sophistication.
Cold drinks stay cold for more than 24 hours

Hot coffee, Hot chocolate stay piping hot for 12 hours

Sleek futuristic bottle is airtight and insulated

Double walls create a vacuum to preserve temperature

The healthy safe alternative to plastic. Highest grade stainless steel is BPA free

Easy to clean. 

Tough and durable. Bottles that are made to last a lifetime

Eco friendly (replacing single-use plastic bottles that pollute our oceans)

Clean Pure Taste 

1000 ml capacity

Highest Grade 18/8 Stainless Steel Bottle 
The BBBYO COOLER CARRY COVER protects your Future Bottle. The thick protective wrapping protects your bottles form bumps, prevents scratching and adds an extra layer of insulation.
Thick 5mm protective neoprene cushions your Future Bottle

Carry handle that slips over wrist for portability

Heavy gauge chunky zipper for easy removal and cleaning

Extended 'Save Our Oceans' zipper puller for smooth zipping

Beautiful Ocean Inspired Prints 

Covers clean easily in machine wash
BBBYO TIPS:
Handle can be tied around backpacks, prams, bicycle handlebars etc
Bottles will float in water
Protective covers are great for bottles that spend time rolling around in cars
Cover will help bottle last foverer. Great for the Environment!
BBBYO TIPS:
Add ice to your favourite drinks. They will stay icy cold all day long
Keep a bbbyo bottle by your bed and wake up fresh
Twist a little citrus into your water for added zing
Mix fresh mint into your water for a natural mouth freshening drink
Blend fresh coffee, milk and ice to make delicious iced coffee
Buy the best bottle in the world now. It is the best for you, best for the environment and 
best for our future.
Buy the bottle and cover together. Own a bottle that is beautiful and also keeps our beaches beautiful.
BBBYO - "SAVE OUR OCEANS"
Shipping + Returns

Standard delivery is usually within 2-3 working days
Returns are always free
Visit our customer services section for more information regarding payment methods or contact our customer service team for further questions.

Help

We would love to assist you the best way we can.

You can find some of the most common questions and answers about our store on our FAQ page.

If you couldn't find your question in FAQ, please contact us directly.