BBBYO
Here at BBBYO, we are making products that aim to keep plastic and textile waste out of our oceans. Whether it be upcycling existing materials or using safer alternatives, our aim is to keep useable materials above ground and use what is available to us now, so we don't continue throwing unnecessary waste at Mother Nature.
Plastic is a highly valuable and useful resource just like wood, water or metals. But the planet cannot sustain making more and more of it. The toxins involved with its processing and its slow biodegradation are finding its way into our waterways.
The BBBYO head office is located in South Golden Beach Australia, and we have been involved with Coast Conservation for more than 15 years.
Our ambition and hope with these initiatives is to encourage thoughtful buying, and for our customers to make a contribution to ridding the ocean of excessive plastic pollution.
We are selling ocean-inspired eco products online to offer our products to a worldwide audience, and to spread the message about ocean conservation.
The biggest contribution we can all make to coast conservation, is through increased education and awareness. The more we know about the supply chain and life-cycle of products, the more eco-conscious we can be, with our choices.
Passing the word on, is also just as important.
Our bottles are branded with the simple message to " Save our Oceans", and our Coastcards offer additional specific advice about things you can do to protect our coastlines and waterways.
Rather than through bottles being washed up on the shore, we can all make a difference through using a "Message in a Bottle".
Everytime you use this bottle, you are keeping one more bottle out of landfill, and out of our oceans.
Thank you for stopping by.
Please feel free to contact us anytime at: info@bbbyo.com
Inspired by the Ocean.
BBBYO specialise in products designed to help keep plastic and textile waste out of our oceans. From bottles that last a lifetime, to carry bags and gadget accessories for the environmentally and fashion conscious, BBBYO aim to keep waste to a minimum and create products for a better future. Using recycled, upcycled and sustainable materials, these products are fresh, fun and functional, with an emphasis on practical style for everyday living. Perfect as beautiful, responsible gifts for friends and family, or as a treat for yourself
Contact Form
Please send us a message and will get back to you in a tick. Thanks!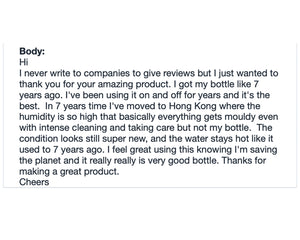 Reviews
Send us a review. Help us improve our products and our service.